Bosom Pals Bedford Breast Cancer Support Group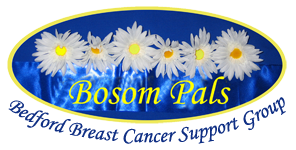 Bosom Pals is a self help and support group for anyone who has been diagnosed with breast cancer. We meet monthly in a relaxed, informal and friendly atmosphere and provide emotional support, practical advice and information. This is achieved with the professional help and support of the Primrose Centre's Breast Care Nurses.
Bosom Pals Committee Members (L-R): Denise (Chairperson), Di, Eve, Margaret, Melia, Pauline, Brenda, Sue
Friends who truly understand
If you have been diagnosed with breast cancer, have had a breast operation or are about to have one and would like to discuss your fears and feelings, come along and meet us. If you'd like more information or just a chat please get in touch.
Where – Transfiguration Church Hall, Bedford Rd, Kempston MK42 8BQ
When – 2nd Wednesday of every month
Time – 7.45 pm to 9.45 pm
Partner's support group
Partners can also discuss their fears and worries with other partners. We all know it's not always easy to discuss how you are feeling with the person undergoing treatment. If you would like more information please contact Rod or Steve.
Rod King – 01234 214455
Steve Franks – 07941 128701
Shop and raise funds with Give as you Live®
Want to help us raise even more for FREE? Well, now you can just by shopping via Give as you Live Online!
When you shop at over 5,500 top stores including John Lewis & Partners, Expedia and Marks & Spencer via Give as you Live Online, they'll turn a percentage of your spend into free funds for us!